How GenAI is changing the HR Technology Ecosystem?
Hello, and welcome back to my Blog!
With OpenAI bringing ChatGPT to market,  Cisco acquiring cybersecurity company  Splunk for $28 billion, Amazon investing up to $4 billion in Anthropic and venture capitals and consulting firms investing in GenAI technology; the HR Tech ecosystem (more than 40K players competing in different categories), vendors saw the opportunity and now every single one started to refine their products and offerings to remain competitive.
Complexity and fragmentation continue in HR technology making it difficult for clients to assess and select vendors to build a future-looking HR tech stack and maximize HR technology investment to boost productivity and profitability.
Based on clients' conversations and working closely with many HR Technology vendors, below you see a snapshot of the ecosystem. As you can see, the HR technology market is extremely saturated and fragmentated due to the proliferation of tools, systems, and data/skills repositories.
Where is the HR Technology market is going?
Acquisitions for diversification and consolidation: vendors are acquiring niche solutions to expand their offerings and boost revenue growth
Next Gen Core HCMs: they are introducing and/or maturing their AI-driven tools and products. This will benefit clients (all sizes) and impacting smaller players.
Gen AI innovation across the talent lifecycle: with strong focus on skills, data analytics and learning (enterprise platforms such as Microsoft, ServiceNow and others are coming for a piece of market share)
Employee experience: this is an area of growth and vendors are looking to position here as the "one-stop" in terms of moments that matter and HR services.
Skill technology: will continue to evolve as vendors deploy mature models and integrate with learning experience platforms as well as talent marketplaces.
New forms of GTM Partnerships:

 

enterprise platforms, AI and data companies, and consulting firms are joining forces to accelerate AI adoption. This is a huge opportunity especially for seed, round A and B vendors. This is a long ride but worth it in terms of revenue growth, and profitability.
Gen AI regulation: as technology evolves, security and compliance standards are defined to protect enterprise and talent data.
Note:
This is a reference one-pager only. There are more than 40K vendors in the ecosystem.
Work with a consulting company to define your strategy and vendor selection. I am not recommending any vendor.
Some vendors are listed in more than one category due to their multi capability approach.
Vendors listed below are the ones I have worked with and/or are being used by some F500 clients
To have a full visibility of vendors' offerings, visit their website to learn more.
Due to limited space, there are some categories that are not listed.
Is this something you see in the marketplace as well? I would like to hear your thoughts
More to come! Stay tuned.
                                               ADRIAN: COPY AND PASTE ONE-PAGER HERE
Note: All views expressed in this article do not represent the opinions of any entity whatsoever with which I have been, am now, or will be affiliated. My opinions are my own.
Share it with your network:
Artificial Intelligence | Employee Experience| HR Transformation| Advisor| Speaker
Albert brings global market research experience  to help executives harness intelligent technologies, reinvent HR, re-skilling and employee experience across NAR, APAC, LATAM and EMEA regions.
[fts_twitter twitter_name=AlbertLoyolaM tweets_count=6 twitter_height=450px cover_photo=yes stats_bar=yes show_retweets=yes show_replies=no]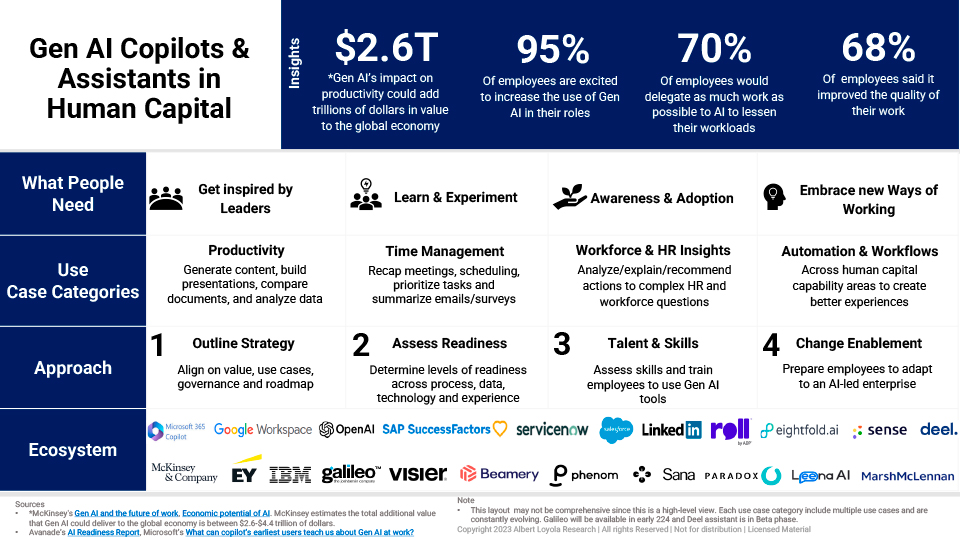 Market Insights
Hello, and welcome back to my Blog! AI Copilots are on the rise! Since the
Read More »