How Gen AI will enable an Immersive Onboarding Experience?
Hello, and welcome back to my Blog!
As Gen AI continues to disrupt markets and business functions, employee onboarding is another use case where Gen AI can reconfigure every aspect of it and enable customizable onboarding journeys. For example, I can see here a "COPILOT" helping hiring managers, IT, recruiters and new employees to coordinate multiple steps, making the process more efficient, tracking progress and providing insights to have everything ready for pre-boarding, post-hire and beyond.
However, Gen AI is not a "Plug and Play" solution. There are other areas that need to be defined, structured, integrated, and managed. For example, align on the "North Start" of the new onboarding experience, capture the "voice of the customer" to understand current state, develop personas journeys, standardize/integrate data, establish new ways of working, key digital technology capabilities etc.
Key Benefits:
· Personalization: a consumer-grade experience. Different roles, skills, and job requirements have different journeys
· Higher engagement: nudge information, learn anytime, anywhere at your own peace
· Access to information and tools: easy to find, and available 24/7
· Insights and feedback: track employee interactions, networking, productivity and capture employee sentiment
· Reduced HR respond time: Gen AI Copilot available 360 days to prepare offers, solve query resolution, automated document intake and verification etc.
Steps to integrate Gen AI in employee onboarding:
1. Develop your AI vision
2. Identify use cases and key capabilities
3. Develop a data architecture to enable access to quality onboarding data
4. Test and gather feedback
5. Articulate and plan for enterprise awareness and adoption
How the technology ecosystem responded?
· ServiceNow launched its Gen AI controller and Now Assist for search as well as its employee growth and development (EGD) offering
· Workday introduced new AI and ML innovations to elevate the manager experience
· SAP released its talent intelligence hub, AI copilot Joule, and generative AI use cases
· Leena AI introduced WorkLM to power its Gen AI chatbot assistant
· Paradox launched its conversational ATS with chat-and text-driven automation
· Darwinbox received investment from Microsoft to integrate product ecosystems
· HiBob raised $150M
Bottom line is to leverage technology to enable key moments that matter and create personalize experiences. However, this is a complex process due to decentralized and fragmented platforms, inconsistent onboarding data, limited integrations and workflows.
The one-pager below provides a high-level view and where to start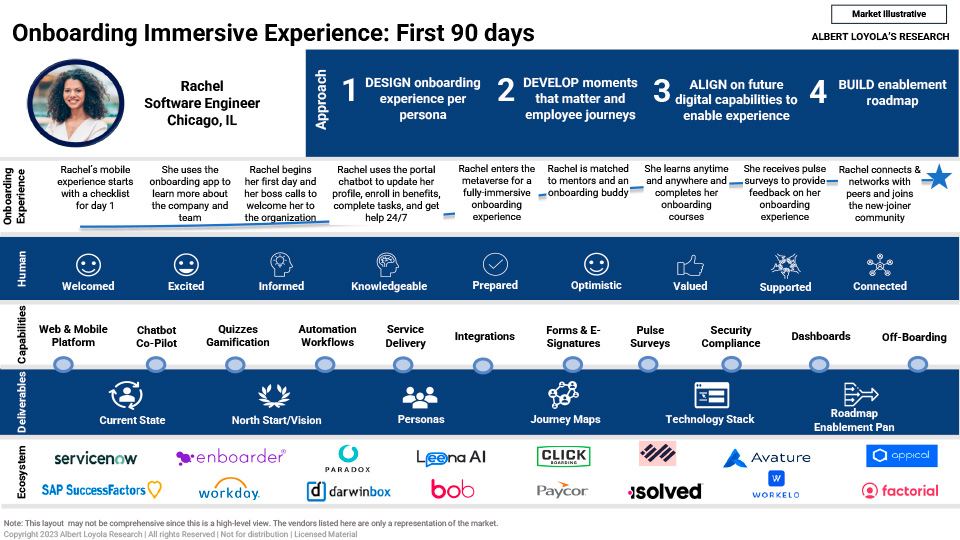 I would like to hear your thoughts. Did I miss anything?
Note: All views expressed in this article do not represent the opinions of any entity whatsoever with which I have been, am now, or will be affiliated. My opinions are my own.
Share it with your network:
Artificial Intelligence | Employee Experience| HR Transformation| Advisor| Speaker
Albert brings global market research experience  to help executives harness intelligent technologies, reinvent HR, re-skilling and employee experience across NAR, APAC, LATAM and EMEA regions.
[fts_twitter twitter_name=AlbertLoyolaM tweets_count=6 twitter_height=450px cover_photo=yes stats_bar=yes show_retweets=yes show_replies=no]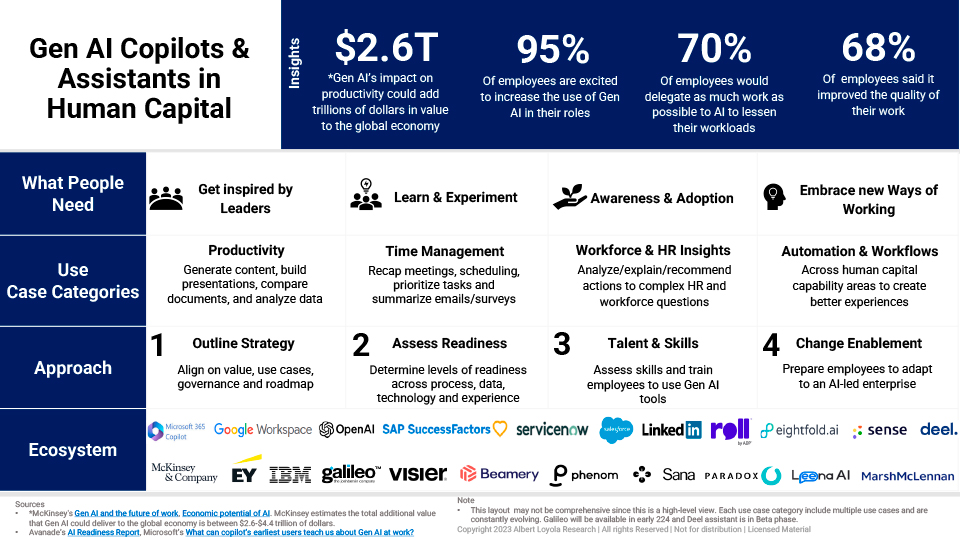 Market Insights
Hello, and welcome back to my Blog! AI Copilots are on the rise! Since the
Read More »