How Gen AI is changing Management Consulting?
Hello, and welcome back to my Blog!
With 40% of enterprises planning to invest in Gen AI and with a sharp rise in demand for AI services, Gen AI is taking by storm the management consulting market by enhancing offerings, service delivery and driving innovation to help enterprises to scale and deploy AI applications.
Management consulting services powered by Gen AI capabilities can help clients with the following:
Reinvent the way how organizations do business and deliver value
Develop a Gen AI strategy and roadmap to accelerate growth and profitability
Enable organizations to implement Gen AI across multiple business applications
Adopt and incorporating Gen AI in their own culture, leadership, and ways of working
To accomplish the above, management consulting firms are building out new forms of enterprise ecosystems and partnerships. They are also making acquisitions and investments on AI to expand services, and global footprint. Furthermore, they are also creating centers of expertise on Gen AI (practice) to bring the best-of-breed technology solutions to scale responsible and sustainable Gen AI capabilities to help clients in their AI transformations.
Ecosystems and Partnerships
Consulting firms are combining digital and strategy expertise with cloud platforms (i.e., Google), hardware companies (i.e., Nvidia) and foundational/hub models startups (i.e., Anthropic) to bring to market new offerings powered by data, tools, and applications to design, build and deploy AI models to assist clients to identify and implement AI programs.
Some recent partnerships listed below:
Accenture, ServiceNow and Nvidia are combining forces to bring to market "AI Lighthouse".
IBM expands relationship with AWS to bring generative AI Solutions and dedicated expertise to Clients.
BCG is collaborating with Anthropic to bring responsible generative AI to enterprise clients.
Acquisitions
Consulting firms are strengthening their AI, data and analytics capabilities to assist clients to democratize access, develop and operationalize Gen AI use cases. Some recent acquisitions listed below:
Max Kelsen will strengthen the suite of Bain's AI and ML capabilities.
Iguaizio will enable McKinsey to accelerate and scale AI clients' deployments.
The Storytellers will enable Accenture to enhance its transformational change capabilities.
Accelerators
New AI-powered solutions and services are rising in management consulting to accelerate project delivery. They are designed, and pre-built to bring value quickly. These solutions also work closely with ecosystem and alliances partners to bring innovation to unlock real-time insights, enable employee experience and improve operations. See some examples below:
IBM launched the Watsonx platform to power next-generation LLMs for business.
Cognizant announced Cognizant Neuro

®️

AI platform to bring to market an end-to-end approach to accelerate adoption of enterprise AI.
EY launched EY.AI that bring together consulting and AI capabilities to help companies to unlock economic value of AI.
Centers of Expertise on Gen AI
To enable digital transformation at scale, consulting firms are creating Gen AI practices powered by specialized talent, frameworks and AI capabilities. See below some examples:
Deloitte launched its Gen AI Practice in April 2023
IBM launched its Center of Excellence for Gen AI in May 2023
How HR Tech vendors fit here?
HR technology vendors can expand its partnerships and alliances strategy and work closely with enterprise technology platforms (i.e., AWS) to expand services to new buyers and align on uses cases where talent is connected to business value. For example, people analytics tied to customer satisfaction and/or product development.
The one-pager below showcase relevant partnerships, acquisitions and accelerators in the management consulting market.
I would like to hear your thoughts. Did I miss anything?
See note section for details. This is high-level view.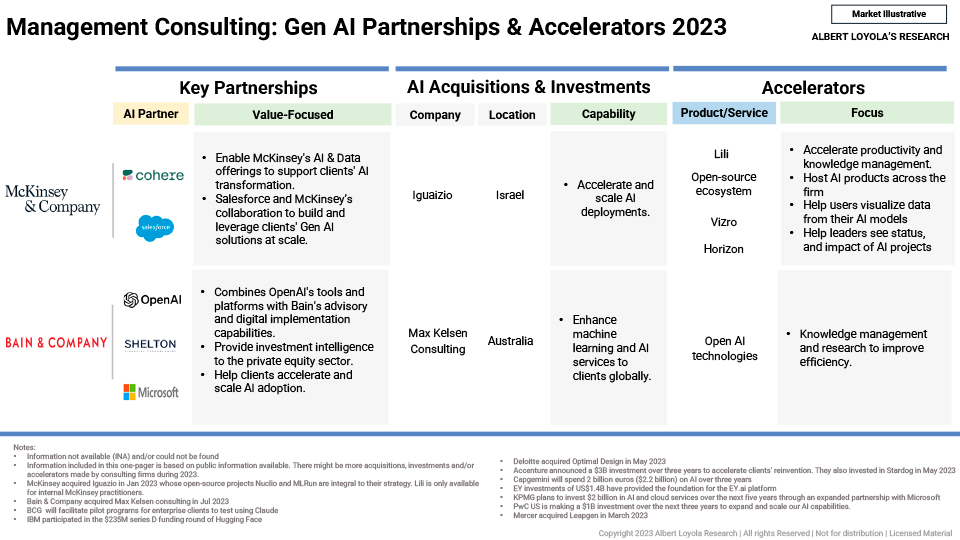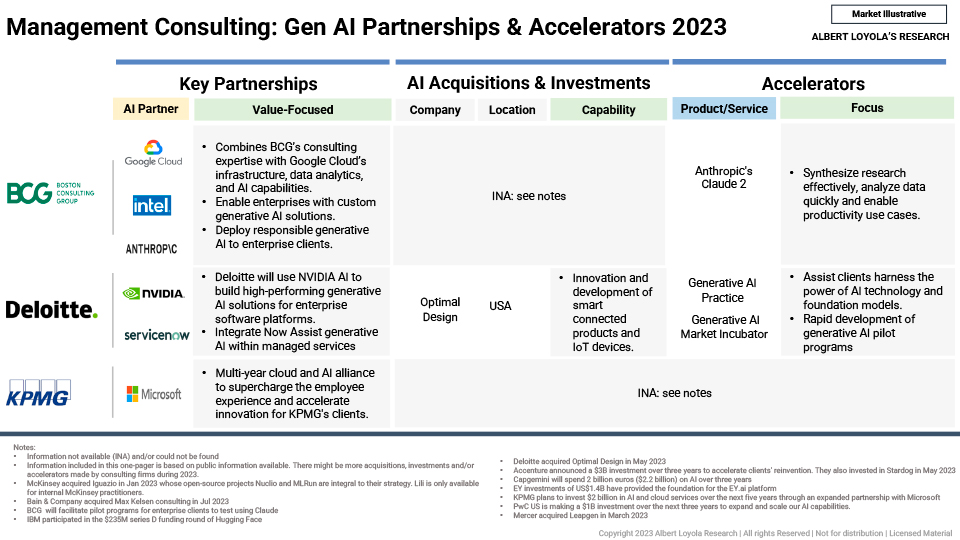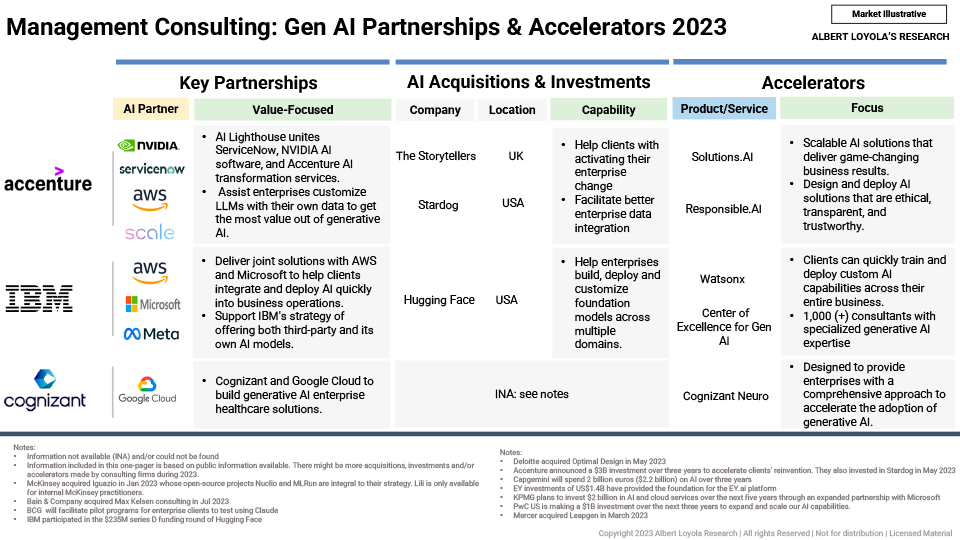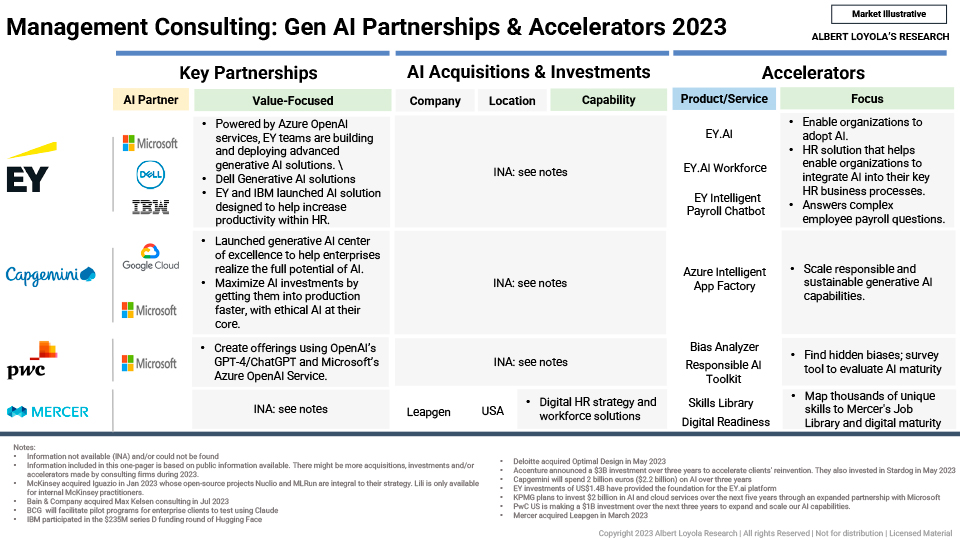 Note: All views expressed in this article do not represent the opinions of any entity whatsoever with which I have been, am now, or will be affiliated. My opinions are my own.
Share it with your network:
Artificial Intelligence | Employee Experience| HR Transformation| Advisor| Speaker
Albert brings global market research experience  to help executives harness intelligent technologies, reinvent HR, re-skilling and employee experience across NAR, APAC, LATAM and EMEA regions.
[fts_twitter twitter_name=AlbertLoyolaM tweets_count=6 twitter_height=450px cover_photo=yes stats_bar=yes show_retweets=yes show_replies=no]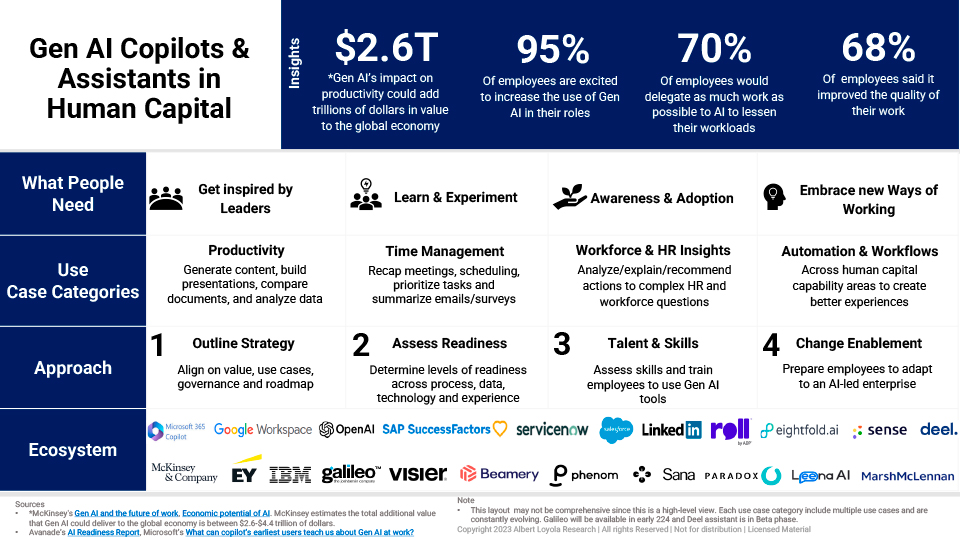 Market Insights
Hello, and welcome back to my Blog! AI Copilots are on the rise! Since the
Read More »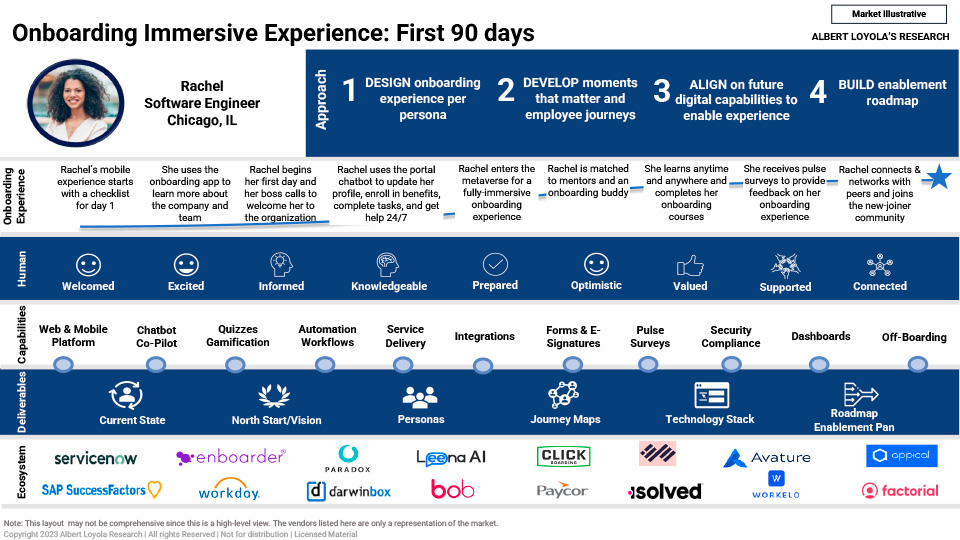 Market Insights
Hello, and welcome back to my Blog! As Gen AI continues to disrupt markets and
Read More »