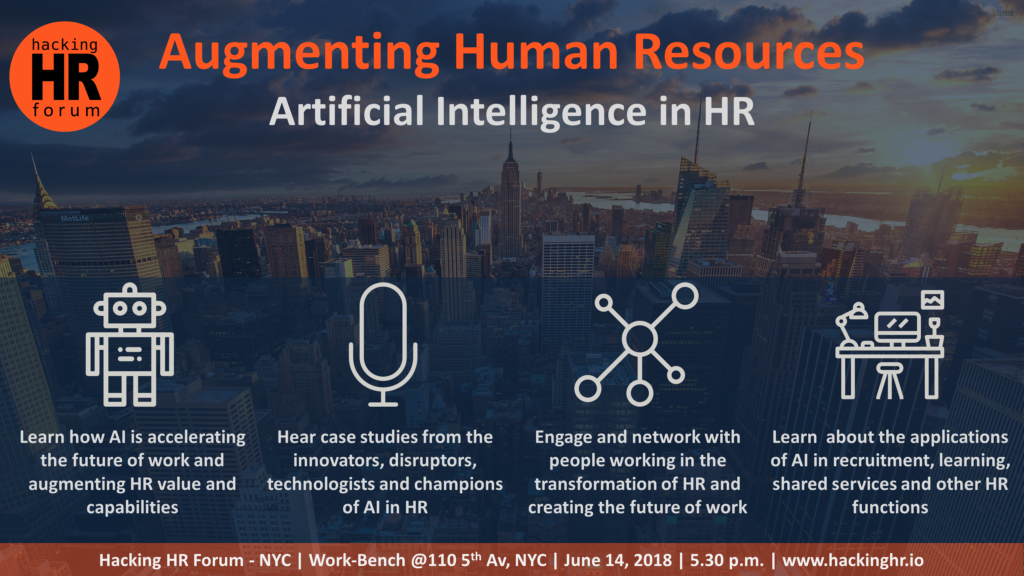 It's no secret that New York is a wellspring of inspiration, and fascinating world leaders lurking around every corner. Everyone can agree that the moment you step onto our fair city's streets, something is stirred within you. If you make it here you can make it anywhere.
 

Albert Loyola

 

Managing Partner of Ignite Organizations

says "there is a new player in HR town: Artificial Intelligence".  He is so incredibly right.
How can an HR professional stay relevant as  Artificial Intelligence takes over different parts of the HR function?
HackingHR is presenting t

he first event in the US exclusively dedicated to the conversation of AI in HR.  "Augmenting HR: Artificial Intelligence in HR". 
Artificial Intelligence is transforming so many areas at work. And Human Resources is definitely one of them.  It doesn't matter if you don't work in HR Tech. 
If you an HR professional, at whatever level and in any function, you must understand what AI means for you, your function, future, company and job. 
Understanding AI in HR will help you get ready for what's happening and what's coming.  We are having a fantastic event today!

 
Come to hear a world-class panel of speakers, network, get some snacks and some beer, participate in a raffle for a couple of Amazon Echo (2nd generation), and some additional surprises. 
When:

Today, June 14th at 5.30 p.m

. Where: 110 5th Av.,

New York City

(Location Work-Bench

) Register now!: 

https://lnkd.in/dk9BEie
It's a great

HackingHR

lineup of speakers!
Anurag Harsh
#HR #Artificial Intelligence #AI #HumanResources
I

gnite Organizations is bringing

HackingHR

 in October. 

We will be in Dallas, Austin and Houston! More info soon Learn more:
Connect with Albert